What is an infographic?
An infographic is a visual presentation of complex data including facts, statistics, numerical information, etc. in easy to understand graphics. An effective infographic design is one that appeals to the audience, help them understand information at a glance, and represents the creator. The different types of infographic designs that you can make include:
Types of Infographics
Comparison infographics
Mind map infographics
Timeline infographics
Process infographics
Hierarchical infographics
Statistical infographics
List infographics
Percentage infographics
Informational infographics
Since a custom infographic design is time-taking, we offer you the best infographic maker free to design and make visuals to match your requirements, preferences and data visualization.
How to Make an Infographic Design with a Template
To design an infographic with Free Logo Creator's tool, you just have to know which industry you are targeting; leave the rest to the free AI infographic maker. It will render several infographic examples for you as well as tons of graphic elements to choose from for customization. Yes, with our tool, you don't need to be an infographic designer, or even know how to design. Just follow these steps.
Select an infographic template
All our infographic templates are categorized by industry and types of infographics for you to select.
Customize your infographic design
Edit your design by adding your company logo, content, and graphics in the design studio.
Download instantly
If you are satisfied with the infographic design, then download, otherwise continue to edit.
Start with a Customizable Infographic Template
You don't have to be a graphic designer to create an appealing infographic design. Let our free infographic creator do the heavy-lifting and transform your data into beautiful visual stories. Present your data visualization with conviction when you have a stunning design for your research, process, or timeline infographics. Don't let your expertise be overshadowed by boring lists of numbers and meaningless data. For easy-to-comprehend data graphics, use our infographic maker AI software. Create professional infographics and beautiful visuals in minutes. Just pick a design to get started!
Get Infographic Now
Robust infographic design software
With Free Logo Creator's professionally designed infographic templates, you can confidently present your data visualization in beautiful infographics to appeal to your audience. Our infographic generator offers a wide variety of infographic designs crafted by some of the best graphic designers in the world. Whether you are searching for scientific research infographic or education graphics, business infographics to infographics for health care organizations, we have them all. Just select an infographic template to get started!
Get Infographic Now
Cook up a storm of infographic ideas
If you are a professional designer searching for graphic ideas to create an infographic of your own then Free Logo Creator's online infographic maker is the ideal tool for you. We have tons of infographic templates, and customization options to choose from. Cook up a storm of ideas to create a unique infographic for your company or client. And the best part is, you can download these infographic as they are or customize graphic elements, fonts, colors, as you go. Save time and brainstorm smartly with an infographic generator.
Get Infographic Now
Wondering how to make an infographic for print?
For those wondering how to make an infographic on MS Word or Googledoc for printing, your search stops right here. Just customize your infographic by using the easy to use studio and download a high-quality, beautiful infographic design . JPG and PNG for print. Alternatively, you can contact our support team help you with a custom infographic design in PDF format for print. See your cold hard facts and numbers in crisp printed infographic designs. We make your data visualization work easy!
Get Infographic Now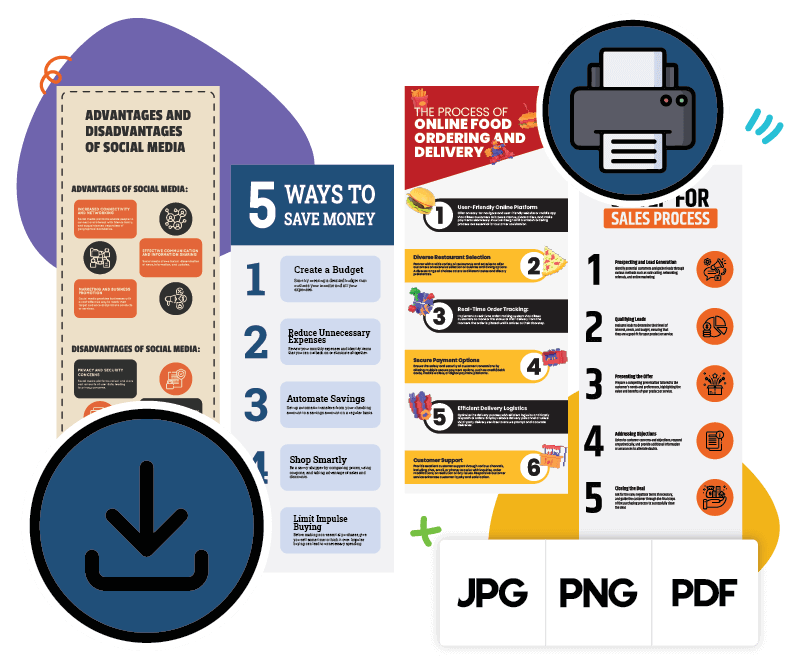 More DIY Design Creators
Apart from our professional infographic creator, Free Logo Creator offers more nifty DIY design creators. Check out these tools, best for business branding.
To start using the infographic maker just select an infographic template which will take you to a design studio. This is where you can edit the infographic template with your own content such as information, data, facts and statistics, etc. as well as text content.
In the same studio, you can customize the font, colors, and graphics as well. On the left-hand side panel you will find plenty of graphic ideas to help you make a stunning infographic to wow your audience!
Once you are satisfied with the design, download your infographic in PNG or JPG. That's all it takes!
Of course, you can! There is no hard and fast rule to stick with one infographic template. If you find the design you have selected not a great fit for your data, or even don't like the design anymore, start over. Pick another design that is a better for visualizing your information.
Our design studio also allows you to create an infographic from scratch. You can start with a blank canvas, select graphic elements listed on the left panel, and design your own infographic!
We offer a wide collection of infographic templates for different industry niches including—finance, education, environment, healthcare, digital marketing, fitness, agriculture, etc.
Moreover, there are different types of infographics for you to choose from and design with the AI infographic generator such as:
Comparison infographics
Hierarchical infographics
Information infographics
List infographics
Mind map infographics
Percentage infographics
Process infographics
Statistical infographics
Timeline infographics
To add your company logo, go into the design studio. On the left side, navigate to the Images section which gives the Upload Image option. Select your logo design file from your computer local drive to add to image gallery. From there you can add your business logo to the infographic.
At the moment Free Logo Maker's infographic generator doesn't have a direct printing option. But you can always contact our support team to create a custom infographic design in PDF format for printing.
Our design studio is extremely easy and flexible for all types of users. You can opt for a readymade infographic template or you can design one from scratch.
First get your information ready such as content, facts, statistics or numbers.
Then select a blank canvas or page to add graphic elements.
From the left navigation add graphics, images, text, colors, etc. as you add your text to design an infographic from scratch.
Download your infographic in PNG or JPG.
If you do not like the infographic you have created from scratch, then reset or select a pre-made infographic template instead.